Halloween drinks are all the rage! Want something simple but inspiring for your Halloween party or dinner party? Here we have three versions of the Vampire's Kiss along with several other libations we think you will enjoy!
Vampire's Kiss (1)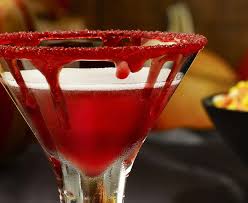 1 part vodka
1 part champagne
1 part Chambord
Pour vodka then top with champagne. Pour the Chambord (blood) over the back of a spoon to make it float!
Want to pronounce Chambord correctly?
Jekyll & Gin Cocktail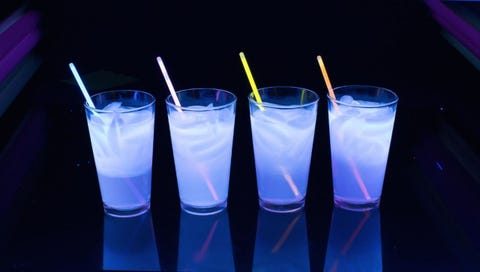 3 oz.

Gin

1/2 oz.

lemon juice

1 tsp.

grenadine

1

handful ice

tonic water
Mix gin, lemon juice and grenadine in a cocktail shaker; pour into a large glass filled with ice.
Top with tonic water. Garnish with a glow stick (optional).
Vampire's Kiss (2)

Fake blood for rim:
½ c. white corn syrup
1 tbsp. cornstarch
⅛ to ¼ c. water
15 drops red food coloring
5 drops blue food coloring (makes it red and not pink)
Combine all and and to the rim of your glass.
1½ oz. Midori
1 oz. SKYY Infusions Blood Orange
2 oz. pineapple
½ oz. cream
Grenadine
Combine all ingredients except grenadine in a cocktail shaker. Shake and strain over a little ice. Drizzle grenadine in glass.
Monster Mash Cocktail
Ingredients
2 oz Silver Tequila
4 oz Blood Orange Juice
Simple Syrup- to taste
1 oz Lime Juice
Ice
fresh rosemary sprigs for garnish
slices of blood orange and lime for garnish
gummy eyeball candy skewered on stir sticks
Instructions
Combine ingredients in a cocktail shaker and shake until well chilled. Pour over a glass of ice and garnish with a sprig of fresh rosemary, slices of blood orange and lime and a gummy eyeball stir stick
Vampire's Kiss (3)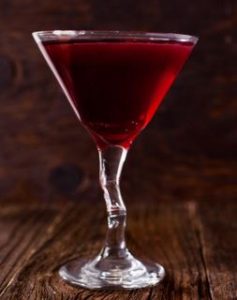 Directions
Put ice and water in martini glass, to chill.
Put all ingredients in cocktail shaker with ice and shake the heck out of it!
Dump ice/water from glass.
Strain into martini glass and ENJOY!
Witches Brew Punch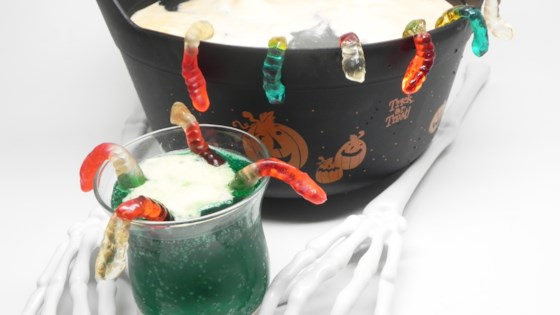 Ingredients
Directions
Mix boiling water, sugar, and lime-flavored gelatin together in a large bowl until sugar and gelatin are dissolved. Stir in pineapple juice.

Pour pineapple juice mixture into a punch bowl. Add ginger ale, orange sherbet, orange drink, and gummy candy; stir well until blended.

If it's a glass punch bowl, allow mixture to cool before adding any ice to avoid damage to the bowl and a huge mess!

Black Widow Cocktail
A little refreshing beverage for the darker hours of the night. Easy to make, for a single drink or for a whole group of people. Use tall, short stubby or martini glassware, any of it will work! My favorite is to pour this drink over ice, so I use a Tall cocktail glass, with little sword picks to hold the blackberry.
Like a Black Widow spider, this drink might just make you lose your mind….over how tasty they are.
6 oz blackberry juice
1 oz simple syrup
2 oz vodka
Ice cubes
Blackberries on toothpick or other type food stick for garnish (frozen or fresh)
Mix all ingredients together in a shaker or just pour each ingredient over ice into the glass and stir.
To make Blackberry Juice:
3 quarts of fresh blackberries or 3 (16 ounce) packages of frozen berries
1 cup of water
Mash up blackberries, add in water. Strain mixture into bowl.
To make Simple Syrup
1 cup water
1 cup sugar
Bring water to boil, slowly add in sugar. Reduce heat to low and stir for about 2 minutes. Cool.
Refrigerate all left over juice and syrup. Juice will last about a week, syrup up to three weeks.
Join the fun!
Have questions or a drink of your own you'd like to share? Go join our group page at https://www.facebook.com/groups/SpiritHuntersIntl/ or check out our Facebook page at https://www.facebook.com/spirithuntersintl/